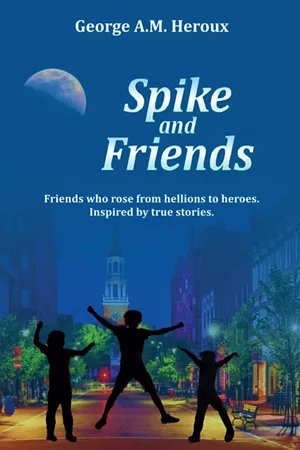 Over several decades of living in the same legal community, fellow Springfield attorney George Heroux and I did not have very much professional contact. During my legal and judicial career, George was involved in legal education at the Illinois Institute for Continuing Legal Education. Before coming to Springfield, he had a varied career as an editor for Business Week magazine and helping draft mental health legislation in New York. After his career at IICLE, he was the professional education director for the American Bar Association. In addition to his writing, he currently heads a nonprofit organization doing victim impact panels for drunk driving offenders.
Over the years, George and I occasionally met at a seminar and I did run into him once or twice at Barnes & Noble as he was preparing for a reading. I knew he was a writer. So when he recently approached me asking if I would review his latest book, Spike and Friends, I was happy to take the opportunity to learn a little more about George's legal career before he came to Springfield. It is quite an interesting story.
As he acknowledges in his opening sentence, Spike and Friends is a book of fiction supplied with true stories of three lifelong friends, George, Bud Twiss and Earl Quantock, one a fellow attorney, and one a military veteran and teacher. Their experiences are the foundation of Spike and Friends and a great deal of the story, by Heroux's own admission, takes some liberty with the facts.
The novel will strike a chord with many who identify as baby boomers. It certainly did with me because many of the experiences shared by Heroux's fictional characters, Tony, Spike and Frank, brought back similar memories from my life. In two significant aspects of the fictional lives of Heroux's three men I could recall sharing similar life experiences.
The first was in the description of the Vietnam War era. Heroux writes of those years when many young males struggled with confronting that conflict and possible military service. It was more than a moral dilemma. It was simply a question of how to accomplish military service in the least dangerous manner possible. Spike and Friends recounts those years through the eyes of the trio. I recall vividly the student union at college the night of the draft lottery. Several of my college friends wrestled with the same issues in deciding how their military obligations would be met. It was a major life challenge brought back to me by the novel.
The major area where I could identify with Heroux's characters was in his recounting of the legal careers of Spike and Tony. I shared some common experiences with them. I worked in a prosecuting attorney's office, experiencing interesting cases that remain etched in my memory. Later in my career there were a wide range of cases across the legal spectrum – civil cases, criminal cases and just some interesting experiences both inside and outside the courtroom. As Heroux describes some of his more memorable courtroom experiences, I was reminded of my own. Even years later, George and I both have the ability to recall them with great enthusiasm and detail. What makes Spike and Friends so enjoyable is that the descriptions are not bogged down with self-congratulatory detail. Rather they are as if George and his friends are sitting together over drinks or dinner recalling the days that may have passed them by but still provide joyful memories.
Spike and Friends is an entertaining tribute to friendship and friends. I enjoyed spending the time with George, Bud and Earl and, perhaps when our lives return to some normalcy, George will share a little more of their story with me.
As an attorney and judge, Stuart Shiffman of Springfield has participated in hundreds of criminal and civil trials. His reviews of courtroom novels and other subjects regularly appear in Illinois Times.