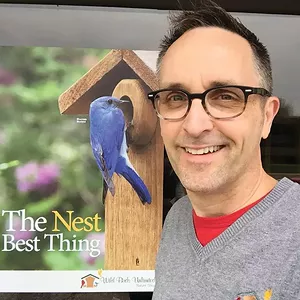 Wade Kammin opened Wild Birds Unlimited 27 years ago at the current location at 1930 S. MacArthur. With a staff of six employees, the core specialty of Wild Birds Unlimited is high-quality backyard bird feed.
"I'm proud of my staff," remarks Kammin, noting that four staff members have been working at the store for over 20 years. He trains staff well before they interact with customers on their own. "No need to wing it," he quips. Customers appreciate the long-standing relationships as well as the knowledge base of employees. "Having years of experience speaks volumes," Kammin says.
Over the years, Wild Birds Unlimited has expanded to meet customers' needs, as many backyard bird enthusiasts are also cat and dog owners. "We carry high-quality dog and cat food, toys and treats," says Kammin, as well as gift and garden merchandise, often with a pet theme.
Though COVID-19 has hit many businesses hard, Kammin says his store has been lucky, as interest in backyard bird watching and feeding has risen with more people spending time at home. "One customer said that his wife has never been very interested in birds until she worked from home and watched birds at a feeder from her desk. Then she wanted another feeder." Kammin also notes that children learning from home appreciate the breaks from a screen to take a few minutes to watch wildlife.
If you've been to the store, you may be familiar with the resident cats, Martin and Lewis, who despite sharing names with the famous comedy duo, arrived from different shelters. Elio, their canine companion, comes and goes with Kammin, who has a keen interest in dogs. He previously raised six puppies for Canine Companions for Independence, a group that provides service animals for people with disabilities.
Kammin attributes the store's success to a variety of factors, including the neighborhood feel of the store, which despite being on busy MacArthur Boulevard, is flanked by residential neighborhoods. "We recognize everyone. We have that small shop feel," he says. Because of the personal nature of the store, employees can customize their advice and provide more education to their customers.
If you've been interested in birds and not sure how to begin, Kammin states that now is a great time, as bird feeding and watching "can be done at any level" of investment, starting with a small feeder and a bag of fresh bird food.