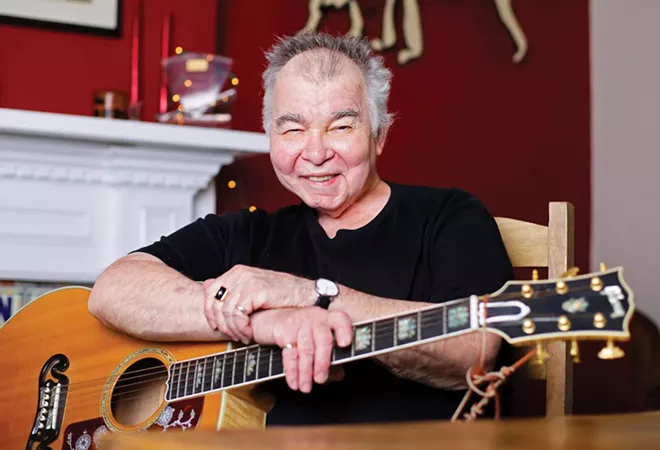 John Prine died on April 7, killed by COVID-19. If you don't recognize the name, you probably won't care that Gov. JB Pritzker in June proclaimed Prine the first Honorary Poet Laureate of Illinois.
A much-loved character, Prine grew up in Maywood and got his break in Chicago and lived there for a while. He was widely known as a folk singer by the kind of people who know about folk singers. Others claimed him as a country artist, although I think that a "writer and singer of American songs" suits him better. The likes of Bob Dylan acknowledged Prine as a peer and he even had such unlikely champions as Roger Waters.
Prine was an able enough singer and composer of tunes, but it was his lyrics that linger. In 2016, he was honored by the writers' organization PEN America for having composed lyrics of literary excellence. (He joined the likes of Tom Waits, Randy Newman and Leonard Cohen.) Hence the governor's awarding of state laurels. Honorary honors are ephemeral, alas, and some fans want the state of Illinois to give him a more lasting memorial by placing his name among those of Illinois novelists, poets, historians, memoirists and playwrights engraved on the frieze that adorns the Illinois State Library in Springfield.
An "attaboy" proclamation is a very different degree of honor from permanent enshrinement on the Illinois State Library building. Does John Prine really deserve the latter? Three questions need to be answered first. Are song lyrics poetry, or indeed literature of any kind? Was Prine the best lyricist among Illinoisans lyricists? And was he a distinctly Illinois artist?
The governor's proclamation of Prine as poet laureate indicates that the governor at least has made up his mind about an old and tedious dispute about whether song lyrics are poetry. Song lyrics can be poetic, certainly, and Prine's often are; his lyrics keep trying to bust out of the limitations of the genre and become verse in spite of themselves. But while a poem stands alone, a lyric relies on the song to convey the full force of its meaning; reading the lyrics of a favorite song or two will remind you how dully the words land on the ear without the music.
If song lyrics aren't quite poetry, are they literature of any kind? There is some precedent for defining masters of minor literary forms as litterateurs. The 35 immortals who look down from the fourth floor of the state library include a screenwriter (Hecht), a speechwriter (Lincoln), and memoirists (Addams and Farnham). Lordy, even newspaper columnists (Ade and Dunne) are up there. And then there's Studs Terkel, who is a genre of his own. (Said Studs at the time, "I'm not sure I belong there.")
The wise men and women who picked the original 35 honorees left the door open, in short, and it's wide enough to admit John Prine as a litterateur. Was he among the best? As popularly understood, the original 35 literary immortals named on the frieze are the best Illinois writers of their time in their respective genres, but then-Secretary of State Jim Edgar insisted from the start that the library had not attempted to identify the 35 "best" writers of Illinois, indeed had not even identified writers at all. (The library carefully refers to the original 35 as "authors," not writers.) Among the Immortals, for example, are James T. Farrell and Theodore Dreiser, important authors but neither much of a writer; also up there is the Sauk chief Black Hawk, honored for an autobiography that he might not have written.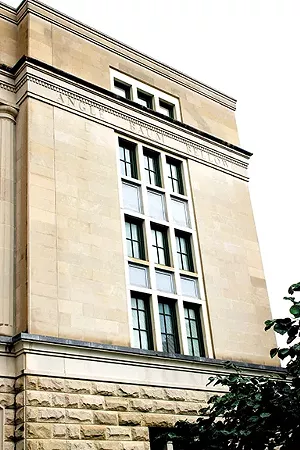 So we can dismiss the question of whether Prine was the best Illinois lyricist, confident that it would be enough that he was the best writer of John Prine lyrics the world has ever seen. More crucial to his elevation to an immortal on Illinois' state library, it would seem, is his Illinois-ness. Before we can decide whether John Prine was an Illinois author we have to decide what makes any author an Illinois author. Being born here? Growing up here? Living here as an adult? That was enough for Jim Edgar, who once described the frieze as "a monument to all great writers who have called Illinois home."
I can appreciate why an Illinois governor would be grateful to anyone who agreed to pay taxes in Illinois, but I wonder whether an Illinois author is better understood as one who takes Illinois as a subject in any of its aspects. Poets are the closet critter to Prine among the state library's original honorees. There are four of them on the frieze, and each of them – Lindsay, Sandburg, Masters, and Brooks – wrote about Illinois places and people. But while Prine was a poet from Illinois, Prine was not an Illinois poet. Born and raised in Maywood, his heart and mind (and accent) was Kentucky and the upper South. As far as I know he never wrote about Illinois as such (although I know very well that there's a great deal of Kentucky in Illinois).
It turns out that the state library, in addition to not insisting that its literary immortals be good writers, did not insist that an author take up Illinois as a subject. Ernest Hemingway, for example, was born and raised in Oak Park but never published a word about Illinois (and in my opinion was a poor choice for that reason). Prine thus has more in common with Hemingway than he does with other as-yet-unrecognized poets such as, say, John Knoepfle, who's about as Illinois as dirt. Among the several fine works of this sage of Auburn is Poems from the Sangamon (1985) whose poems trace the Sangamon River from its source in a culvert near LeRoy to its confluence with the Illinois River.
At first glance, the whole question of Prine's being elevated to the frieze seems moot, since the original frieze, which nearly encircles the building, is full. A second, narrower band of stone runs atop the building's rusticated stone base and offers space for the names of a new generation of literary greats. If that space is opened, the question that would lie before the secretary of state (who is the library's custodian) is not whether John Prine deserves to be honored – I think he does – but whether John Prine deserves to be honored ahead of everyone else.
Inevitably, the standards have changed since 1990. There no longer being a place called Illinois but a hundred Illinoises, each unique to the race, class and sex of its citizens, a roster of new immortals will have to be inclusive. When I write that Prine is a poet of America, I mean that he is a poet of his America, which is the white, up-from-the-country, working class. If Prine is admitted into the pantheon, democratic etiquette will demand that our Kanye Wests and our Sufjan Stevens and our Patricia Barber be there too.
Maybe fretting about appropriate genres and "best" and time's wisdom is too 1965. Maybe Illinois needs a way to honor its literary greats that is appropriate to today's digital, wired, late-20th century Illinois. In a culture in which reputations build and fade like summer storms, 50 years is too long – a 50-day rule ought to be prudent enough – and engraving names in stone that can't be un-engraved is just asking for trouble. Why not convert the library building's lower frieze into a digital message board? The names of honorees could be changed as political and aesthetic fashion dictate, and we can cram as many masters of as many genres as we want, up to and including authors of best Christmas family newsletters.
Even better, the library could display excerpts from the works of honorees – songs, poems, tweets, graffiti – on the safe assumption that not everyone will have read them. It would be educational, and give bored tourists something to do while they wait for the armory to finally fall down.
James Krohe Jr., has been a contributor to Illinois Times since 1975; most of his IT pieces can be read again in The Corn Latitudes. He also is the author of Corn Kings & One-Horse Thieves: A Plain-Spoken History of Mid-Illinois.