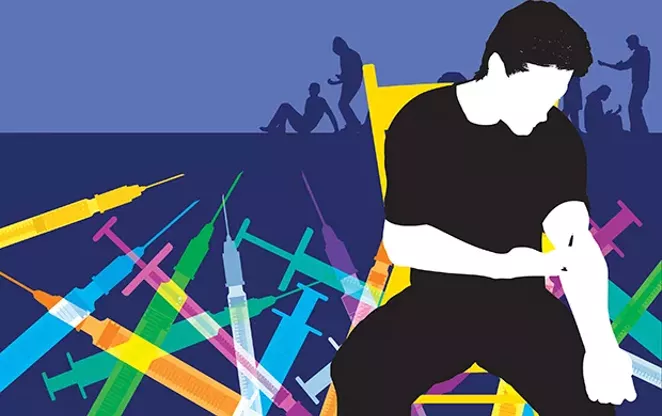 In Sangamon County, just three people have been charged with drug-induced homicide since Illinois passed a law in 1988 allowing criminal charges for distributing a substance that proves fatal to the person receiving it. However, the law makes no distinction between someone who is selling narcotics or provides a fellow user with what proves to be a lethal dose of a substance.

With the escalation of overdose deaths in Illinois and the state's efforts to combat the opioid crisis, a 1989 law that has been used sparingly in the past is starting to gain momentum.
"This particular charge has become more common because of powerful synthetic opioids like fentanyl," said Sangamon County State's Attorney Dan Wright. "My job is to enforce the law, advance justice and ensure public safety. When there's evidence to support drug-induced homicide beyond a reasonable doubt, I'll prosecute."
Drug-induced homicide is a Class X felony in Illinois and carries a sentence of up to 30 years, which is more than second-degree murder or manslaughter. The only homicide charge with a greater potential sentence is first-degree murder.
Justin Callarman was indicted on charges of drug-induced homicide on Dec. 18. He's the most recent person in Sangamon County to be charged with the crime.
William Gerding died Sept. 3, and Callarman allegedly delivered the fatal dose of heroin and fentanyl to Gerding between Aug. 31 and Sept. 3. Callarman was arrested Dec. 13 and is currently in the Sangamon County jail awaiting his trial.
Callarman previously had numerous interactions with police, ranging from petty thefts to more serious crimes. The Sangamon County Sheriff's Office denied freedom of information requests regarding investigation of Callarman, but police records describe Callarman as an addict spiraling out of control for over a decade.
In one interaction with an officer from the Springfield Police Department on Sept. 4, 2010, Callarman was found asleep in a vehicle while parked in front of a gas station on Monroe Street. He was in the driver's seat with the keys resting on his lap, feet dangling from his vehicle. The officer who spoke with Callarman that night said he smelled like alcohol and that his pupils were consistent with someone who was high. The officer wrote in his report that he asked Callarman to roll up his shirt sleeves during a field sobriety test, where he observed "fresh puncture sites or track marks" on Callarman's arm. The officer eventually found a syringe and spoon in one of the pockets of Callarman's cargo pants. Residue left in the syringe and on the spoon tested positive for heroin. Upon learning that he was being arrested for driving under the influence, Callarman reportedly exclaimed, "I didn't even drink that much. All I did was shoot some heroin two hours ago, so it's not like I was driving drunk."
Those who are addicted to opioids know they're only hours away from experiencing the intense, flu-like symptoms of withdrawal if they don't use. Many users say the potential long-term ramifications, including the risk of arrest or even death, are pushed to the back of their minds when the threat of withdrawal begins to loom.
Springfield resident Brandy Klauzer is someone who understands those risks. She's battled addiction for over 20 years and says she's been off heroin for about a year.
"My love affair with pills and opiates happened in 1999," Klauzer said. "It went from a few surgeries and finding Vicodin. It escalated to me going to treatment. At one point I was eating 22 Vicodin a day."
Once she began using regularly, she moved out of her partner's home because Klauzer knew her substance use would ultimately lead to the relationship ending. That's when her drug use increased and she tried to earn extra income to support her habit.
"My habit went from $20 a day to $200 a day to me selling," Klauzer said. Given her increased use, she said she ended up being her best and only customer.
While Klauzer had never heard of drug-induced homicide, by her own account, she could have easily been a case like Justin Callarman if someone she was using with had died.
Klauzer said her group of friends and fellow users talked about getting clean, but it took nearly five years before she began receiving addiction treatment.
She explained that the addicts she knew chose to get high in groups, so that someone could call for help in case of an accidental overdose, because carfentanil-laced product had made its way to Springfield. Ironically, she and her friends sought out carfentanil-laced heroin they knew to be more dangerous because it was strong enough to keep them from going through withdrawal.
"We have no other choice, being addicted to opiates the way that we are," Klauzer said. "We have to use."
Mixed signals
Millions of dollars of federal funding has been allocated to battle the nationwide opioid crisis, and Illinois has received its share. Earlier this month, the Illinois Department of Human Services announced the state had secured an additional $15 million in federal funding, for a total of $82 million to combat opioid addiction since September 2016.
However, the number of overdose deaths in Illinois climbed above 2,400 in 2016 and has remained consistent since then. Provisional data from the Illinois Department of Public Health lists 2,642 overdoses in 2018. That's about 130 less overdoses than 2017 numbers, but a major jump from 1,579 overdose deaths in 2013.
Illinois legislators have enacted laws that expand resources needed to support people battling substance abuse while, at times during the same legislative session, enacting more punitive laws for those who are caught with drugs.
A bill currently under consideration by lawmakers would increase sentences for anyone caught with fentanyl. At the same time, a bill to create more needle exchange programs and provide test strips to check for fentanyl-laced heroin is also being considered.
Attorney General Kwame Raoul has added Illinois to the list of more than 1,600 local and state governments that have filed suit against Purdue Pharma, a Connecticut-based pharmaceutical company that Raoul alleges engaged in deceptive practices and misinformed doctors about the addictive nature of OxyContin.
Though the attorney general's lawsuit is primarily based on the influx of sales representatives the company sent to Illinois to ramp up drug sales, the lawsuit contains multiple references to the risk of addiction associated with the company's branded drug and the outcome from pushing OxyContin, which company reps touted as a "safer" alternative than other pain medications.
"There are no reliable clinical studies supporting the use of opioids long term; however, there exists a wealth of evidence establishing that opioids are both addictive and deadly," the lawsuit states.
Earlier this year, 23 state representatives signed a resolution to urge the Department of Public Health to revisit its painkiller prescription guidelines.
David Vail, a substance abuse counselor at Clinical Counseling Group in Springfield, said the vast majority of people can use drugs recreationally without issue, but approximately 10% to 14% of users are prone to addiction. He explained there's also a difference between addiction and being physically dependent on substances like opioids.
"Addiction occurs in the brain … we have enough studies, we don't need to spend another dime on addiction studies," Vail said. "We need to spend money on what it looks like with long-term recovery and short-term recovery and how we can get people well."
The underlying cause of addiction, he said, is unaddressed trauma that manifests in behavior. Vail said childhood trauma and use of substances before the age of 19 are common denominators among the segment of the population that's most vulnerable to abusing drugs. He said the majority of IV drug users have been subjected to some type of abuse.
"We just know more about trauma-informed care because of the brain research than we've ever known before," Vail said. "These things will dictate life trajectories and there's just no way to avoid it."
Vail said taking a top-down approach at the state level to better provide substance users resources to kick their habit while simultaneously enacting punitive laws won't resolve the current opioid crisis or addiction in general.
He said the best way to address addiction is long-term care that treats those in recovery with compassion. He noted that threatening addicts with punishment isn't a strong enough deterrent.
"Condone it or not, [drug use] is going to happen," Vail said. "Either you want to help with the problem with the level of care we give people, or you're going to bury your head in the sand."
Illinois passed the Good Samaritan Act in 2011, granting limited immunity for those who seek medical attention for someone overdosing. However, the law doesn't extend immunity when those seeking medical attention are in possession of more than three grams of heroin or morphine or 40 grams of prescription pills. It also doesn't apply if the person overdosing dies and the person who sought help provided the drug.
Deadly habits
Illinois prosecutors indicted 486 people on drug-induced homicide charges between 2011 and 2016, according to data from Drug Policy Alliance, an organization interested in reforming drug policies. Prosecutors from the four most populated states – California, Texas, Florida and New York ­– collectively charged 399 people during that same period.
The Sangamon County state's attorney noted that the statutory language regarding drug-induced homicide is not limited only to people selling narcotics.
"The charge does not require it be a purchase or a sale of a controlled substance," Wright said. "It states the charge was appropriate if there's an unlawful delivery. We view every case based on the specific evidence presented to us by the investigation conducted through law enforcement."
Gary "Rob" Clark was recently released from prison after serving four-and-a-half years. In 2014, he became the most recent person in Sangamon County to be convicted of drug-induced homicide.
"I had a good life before my addiction," Clark said. "I'm an honorably discharged Army veteran. I was in the 173rd Airborne Brigade, but I ruptured my spine overseas and became addicted [to painkillers]. When I came back, I was just hooked."
Clark said the experience has changed him, and he's tried to make amends to the family of Daniel Buehrle, the man who died after obtaining heroin from Clark.
"I had no clue that such a charge existed," Clark said. "The fact that it's called drug-induced homicide – homicide sounds like murder. It sounds like you meant to do this, when in reality it was just three or four people together trying to feed an addiction. It's the most harsh wording for the most unfortunate scenario."
Springfield Police Department reports about Buehrle's death in October 2012 include an interview with a man who called for assistance once Buehrle overdosed in the parking lot of Southwind Park. The man told police he tried to move Buehrle in an attempt to drive him to get medical assistance before running off because he was "freaked out." He then told police he was the one who bought heroin from Clark before meeting with Beuhrle. The same SPD report also connected Clark to an August 2012 overdose of a different individual and the death of a 25-year-old Chatham man who died at Clark's residence in December 2010.
During the incident at Southwind Park, Clark said he was there with Buehrle and tried to give him an overdose resuscitation drug, but he didn't know how to administer it.
"They leave that part of the story out," Clark said.
Police reports make no mention of Clark being present at Southwind Park when Beuhrle overdosed.
Clark was arrested in February 2013 for his connection to Buehrle's death and on charges of manufacturing and delivering a controlled substance. Following Buehrle's death, Clark had unknowingly sold heroin to an undercover SPD officer. By all indications, Clark was selling small quantities of heroin to support his own habit.
Like most people who have struggled with addiction, Clark tried to get clean several times before his conviction. He said he drove to Champaign and Decatur on a few occasions to check into a detox center because there was a lack of options available in Springfield.
His attempts at staying clean failed. Heroin transported from St. Louis and Chicago, with Springfield flooded with the drug along the way, and life in general, made sobriety difficult.
"It's almost impossible to do it on your own, and now I see that," Clark said. "I tried to do it, and kept failing, because I didn't understand."
Clark said he's looking forward to the life he missed during the height of his addiction. He said the only good thing to come out of his time in prison was gaining his sobriety, but he still thinks the term "drug-induced homicide" is a misnomer that makes those convicted seem like they're violent offenders. He insists that's not the case.
Clark said he and Callarman were familiar with one another since they both grew up in Chatham, although Clark said they didn't share the same group of friends. Clark says he can imagine what Callarman is going through, probably believing his life is over.
"I met a few people in prison with the same charge." Clark said. "None of us were dealers. We were addicts who were using with other addicts, and another addict died while we were with them."