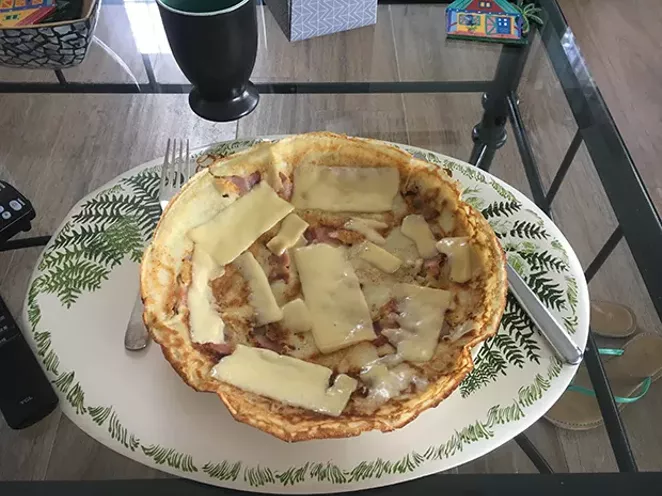 Recently I spent a week visiting a good friend and her husband, who happens to be Dutch. One morning he asked if we'd like Dutch pancakes for breakfast.

"Ooh, like a Dutch Baby?" I asked.

"Um, no," he replied with a confused look on his face. "Dutch pancakes. We call them Pannenkoeken. What on earth is a Dutch baby?"

I explained that it was something like a cross between a popover and a crepe, usually topped with powdered sugar and a squeeze of lemon. Apparently he'd never heard of a Dutch Baby pancake, and I wondered where the name had come from.

What I was served instead was a scrumptious savory pancake the size of a dinner plate, riddled with bits of crisp bacon and topped with melted Gouda cheese. It was terribly delicious and quite filling. Just as I was beginning to wonder if I'd be able to finish it all, he jumped up and asked if I'd like another, perhaps a sweet one?

Using the same batter, my second pancake was dotted with raisins and drizzled with syrup and, despite my full tummy, I tucked in, enjoying every morsel. As I settled into a fuzzy pancake coma, I began to think that maybe folks in the Netherlands rode their bikes everywhere in order to facilitate the consumption of their treasured Pannenkoeken.

I was still curious about the origins of what I called a "Dutch Baby Pancake." A bit of sleuthing revealed that the dish is actually of German origin. Sometimes referred to as a Bismark, these pancakes were first served in the States in the early 1900s at Manca's, a diner in Seattle that eventually closed in the 1950s. The owner's daughter coined the name, "Dutch Baby," presumably the result of an Americanization of Deutsch into Dutch.

Dutch Baby Pancakes are almost always served sweet, sometimes with sautéed sliced apples embedded into the center. Both Netherlands-style Pannenkoeken and Dutch Baby pancakes make a wonderful breakfast option as the batter can be made the night before and, in the case of the Dutch Baby, the pancake is baked in the oven, making it a relatively hands-off recipe. Pannenkoeken are a wonderful vehicle to use up leftovers such as bits of ham or sautéed mushrooms. They also are more protein-rich than American-style pancakes due to their high egg/milk to flour ratio. Both recipes are well suited to a weekend brunch, a nourishing breakfast before school or work or a fun "brinner" (breakfast for dinner).

Dutch Baby Pancake
• 3 tablespoons butter, divided
• ½ cup flour
• 3 tablespoons butter, divided
• 1 teaspoon vanilla
• ½ teaspoon salt
• ½ cup milk (not fat-free)
• 2 eggs
• lemon wedges and powdered sugar, for serving

Preheat oven to 375 degrees.

Place a 10-inch ovenproof skillet (preferably cast iron) into oven to heat up.

Melt 1 tablespoon of the butter and add to a blender, along with the flour, sugar, vanilla, salt, milk and eggs.

Blend for about 30 seconds. Remove the skillet from the oven and add the remaining 2 tablespoons butter and swirl to coat. Return the skillet to the oven for a few minutes, then remove from the oven and carefully pour the batter into the hot skillet. Bake in the middle of the oven for 30-35 minutes, until puffed and golden brown. Cut into wedges, squeeze lemon over the top, and sprinkle with powdered sugar.

Pannenkoeken Recipe
• 1 3/4 cups flour
• ½ teaspoon salt
• 1 tablespoon sugar
• 2 eggs, well beaten
• 2 cups milk
• 1 tablespoon olive oil or melted butter
• 1 teaspoon vanilla
• butter for frying pancakes
• syrup, to serve
• Assorted filling ingredients such as cooked bacon, ham, sausage, mushrooms, baby spinach, raisins, blueberries or halved cherries (avoid ingredients with high water content, such as strawberries.)
Combine the flour, salt and sugar in a mixing bowl. Add the beaten eggs, milk, vanilla, and melted butter and mix well. The batter should be thinner than standard pancake batter, with a consistency just slightly thicker than heavy cream.

Have your filling ingredients ready (if you plan to use cheese, wait until after the pancake is cooked to add it). Melt about ½ tablespoon butter in a non-stick skillet over medium high heat. When the butter is beginning to brown, scatter your choice of fillings into the skillet, then pour about 1/3 cup batter directly into the center of the pan. Tilt the pan to evenly distribute the batter, then return it to the stove to continue cooking. The pancake is ready to turn when it comes loose as you swirl and shake the pan. You can check for readiness by turning up one corner to see that the pancake has turned quite golden brown before flipping.

To flip, swirl the pan in an elliptical motion, and tilt it slightly so that the pancake shifts down toward the edge of the pan. Using the courage of your convictions, as Julia Child would say, flip the pancake with one quick motion, just as you would an omelet.

Return to the stove to continue cooking until the bottom is well browned. Top with cheese, if using. Transfer the pancake to a plate and serve immediately or place in a warm oven. Repeat with the remaining pancake batter. This recipe makes 4-6 10-inch pancakes.

Contact Ashley Meyer at
Ashley@realcuisine.net.