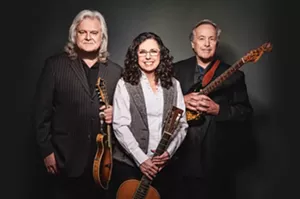 Off we dash through the end of January, heading pell-mell into February like nobody's business. Look out world; here comes the music, and there's not a thing you need to do but enjoy it.

I had the great pleasure of speaking to the great Ry Cooder the other day as part of an interview for the upcoming Cooder-White-Skaggs concert in the Sangamon Auditorium at UIS on Sunday, Jan. 31. Most folks have heard of Ricky Skaggs and possibly Ricky's wife, Sharon White of country-gospel group The Whites, but Ry Cooder may not make the household name-dropping list, though his career is of jaw-dropping stature.
From recording with Captain Beefheart, Neil Young, The Rolling Stones and many others to acclaimed solo albums, six Grammy Awards, the groundbreaking Buena Vista Social Club album with Cuban musicians, along with over 20 film scores and soundtracks to his credit, Cooder is truly a genius musician, constantly painting his masterpiece. During our talk, he discussed not his lifetime achievements but his current project, now on tour. More than once, Ry firmly stated this was a band, not just the three out-front names, with his son Joachim Cooder on drums and Mark Fain on bass, plus guest spots by Sharon's dad, octogenarian Buck White on piano, and her sister Cheryl on background vocals. Ry raved about Buck's piano playing, claiming "It'll knock your teeth out" and talked of White's Texas dancehall style as being nearly extinct. He was quite thrilled to be on stage singing bass parts with all the fantastic vocal harmony going on all around him as well.
The group concentrates on older American-classic blues, country and gospel, what Ry called, "simple songs," allowing the musicians room for instrumental improvisation and vocal harmony. He laughed about knowing 10,000 songs between the band members, giving them a wide range of choices to bring to the stage. While praising Ricky Skaggs for becoming "the greatest mandolin player ever in history," Cooder spoke about a life of making music.
"It takes a lifetime to get around playing, now you know how you want to do it," he explained. "This is the way live music was done before you had to replicate a hit record. This is old school, and a really great time for me and all of us playing together as a group."
The tour started last year then kicked back in again just a few days ago, and the musicians are settling into making music with shows in Ann Arbor, Chicago and Springfield. This is truly a once-in-a-lifetime experience of artists using a life's work of music performance to present songs as magical moments of sounds and silence. If you're about the chills down the spine during slow ballads and hair-raising spectacles of heartfelt, blazing, gritty instrumental work, this concert is a must-see. And if you don't believe me, Ry said he knows its good stuff because "People come up to the merch table and say how much they love it." That's telling the truth, folks, and you'll be saying the same thing.
Around town this week, Dog of Panic hosts a EP release party Friday at Craft Beer Bar by celebrating ...of All Ambition coming out on CD and digital formats. Just signed by Iowa-based label Speak Up Records, band members Dan Rohde, Brad Benecky and Jesse Miller are stoked, to say the least. Josie Lowder did bass on the recording, the drums were tracked by Quincy Watson at his Frequincy studio and Dan did the rest in his home studio. DoP is on the move; you'd better go catch them.
Until next week...
Contact Tom Irwin at tirwin@illinoistimes.com.