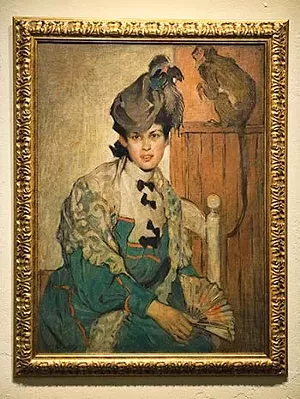 Vachel Lindsay undoubtedly wins the distinction of Springfield's Most Famous Resident, Arts and Letters Category, but he wasn't the only Springfield native to make it big on the art scene. Lindsay's friend and contemporary, Ethel Mars, achieved international acclaim as a painter and printmaker in the early 20th century, in addition to inspiring a watershed piece of LGBT literature.
Mars was born in Springfield in 1876. Her father, Alonzo Mars, was a railroad clerk of modest means, and Ethel and her parents lived with her maternal grandparents for much of her childhood. As a young woman, Ethel flourished in Springfield's local art scene, winning numerous prizes at the Illinois State Fair. She also possessed what the Illinois State Register described as a "voice of wonderful power and sweetness," which she frequently put to use in the service of church teas and sociables.
In 1892 she enrolled at the Cincinnati Art Academy on a scholarship. While there she studied drawing, painting and illustration under noted artists Frank Duveneck and L.H. Meakin. She also met fellow artist Maud Hunt Squire, with whom she would spend the rest of her life.
After graduation, Mars and Squire moved to New York, where they pursued careers as book illustrators. They made frequent trips to Springfield to visit Mars' parents, and Mars continued to show and win prizes at the Illinois State Fair.
Around 1906, Mars and Squire relocated to Paris, then a mecca for Americans with artistic aspirations. Midwestern women abroad were expected to adhere to prim and wholesome behavior, yet Mars quickly embraced a more bohemian lifestyle, dying her hair red and sporting flamboyant makeup.
Mars and Squire also made bohemian friends. They became regulars at Gertrude Stein's salon at 27 Rue de Fleurus, where they met artists such as Henri Matisse and Pablo Picasso. Stein immortalized Mars and Squire in her prose poem "Miss Furr and Miss Skeene," written around 1910 and published in Vanity Fair in 1922. In it, Stein spoofs "Helen Furr" (Mars) and "Georgine Skeene" (Squire), as ladies who "were regularly gay," repeating the word "gay" in almost every sentence. This seminal contribution to LGBT literature is thought to be the first time in linguistic history when the word "gay" was used to connote homosexuality.
While in Paris, Mars found success in painting, printmaking and chalk drawing. Her work was often inspired by imagery of everyday life in Paris. She exhibited at the Société Salon d'Automne as well as the Paris Salon and was elected to membership in both. Her artwork also continued to find favor at home. In 1909 her painting "Woman with a Monkey" was featured in Harper's Weekly magazine. This painting also won the "Best Painting by a Woman" award at the 1910 exhibition of the Society of Western Artists.
During a brief sojourn home to Springfield in the summer of 1909, Mars and Squire were instrumental in the formation of the Amateur Art Study Club, which later became the Springfield Art Association. Although they soon returned to Paris, they continued to support the Art Association from abroad, visiting and sending work for exhibition whenever possible.
At the start of World War I, Mars and Squire moved to Provincetown, Mass., an art colony at the tip of Cape Cod. Mars' international reputation attracted other artists to the area. In the early 1920s, they returned to France, settling in the artists' community of Vence on the French Riviera. They continued working, both in collaboration as book illustrators and independently as painters and printmakers, until the 1930s. Squire died in 1955 and Mars died in 1956. They are buried together in Vence.
For a woman born in Victorian-era Springfield, Mars had anything but an ordinary life: her true love called her to cross social conventions even as her talent and ambition called her to cross an ocean in search of her destiny. Today her work can be seen online at the Smithsonian Museum, Boston Museum of Fine Arts, and the Mary Ryan Gallery (New York), and by appointment at the Illinois State Museum and the Springfield Art Association.
Erika Holst is the curator of collections at the Springfield Art Association, which holds a small but significant collection of Mars' works.