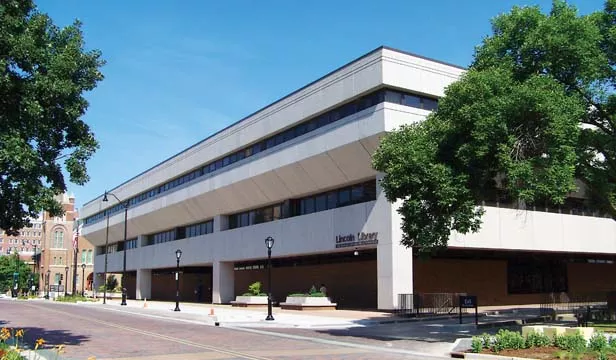 A library used to be one of the first things to be established by any town that wished to call itself advanced. Of late, spending on the library is one of the first things a town cuts back. Many a mayor faces fiscal dilemmas such as those that once prompted Springfield's Mr. Davlin to muse about closing Lincoln Library to save money. Library Systems & Services, the Maryland-based for-profit firm, became the fifth-largest library system in the country by managing public libraries in several states for cities and library districts eager to cut costs, mainly by shedding employees and their pension obligations.

The for-profit library may seem like a new trend, but in fact it merely returns public libraries to their roots. Springfield's first libraries were private subscription libraries based on the same model used by Sam's Club. The most successful of these was the Springfield Library Association, which was incorporated in 1865 and opened in 1869. It sold shares to members of the public, in return for which the buyer got the right to use the facility and to vote for its directors; the non-shareholder could get in for a $5 annual fee.

This business model proved unsustainable, since the people who could afford it didn't need it; the people who needed it couldn't afford it. The Association struggled until 1885, when its stockholders, acting in what has since become a grand tradition in American public life, dumped their failing private enterprise into the public's lap.

For most of the ensuing century, libraries were held above commerce along with churches and schools, all being considered repositories of the good (or at least the socially useful) rather than the profitable. This worked well when cities themselves were profitable. Today's city administrators look at libraries the way a CEO looks at a struggling subsidiary and asks, Is it earning back what we spend on it?

To justify claims on the public purse, libraries themselves have been forced to keep up their "sales" (as meaured in circulation and visitor traffic) in the face of competition from websites and big chain bookstores that feel more like libraries than most libraries do. Their embrace of the commercial ethos has been wholehearted. "Creative library programming" means anything that will bring people through the door. When the Springfield Children's Museum closed in 2002, Lincoln Library made space on its ground floor for leftover exhibits. "We think it will be a good draw for us," said the library's executive director.

A library once housed things that even the wealthy couldn't get elsewhere in the city; today they offer materials that all but the poorest can get almost anywhere. More money is spent on electronic media and less on books, and more of the money that is spent on books is spent on light reading. Such books are neither expensive nor are they hard to find, and are well within the reach of the literate middle class, who are their biggest consumers. Rather than spend its money to augment what the malls offer, the libraries compete with the malls, and by doing so have less money to stock their shelves with the things that the public might need but which the malls do not sell.

Libraries are still in business at all mainly because of the failures of other public institutions to do their own jobs. They function as drop-in day care centers and homeless shelters, and increasingly do the tutoring that schools fail to do, via library homework hotlines and monthly free computer classes and literacy classes. Many employers now require job-seekers to apply for jobs online, and free library Internet access also is the only way for many who are out of work to apply for unemployment benefits. This is a useful public service, but it is arguably not a library service. Rather it is more kin to what the post office provides.

Libraries thus matter more than ever to the poor, but to the middle class – whose tax dollars mostly pay for it – this once-essential community service is increasing seen as merely an amenity. Lincoln Library self-defensively includes on its website a library value calculator by which patrons may calculate how much they would have to shell out to buy the services provided by the library. The police department doesn't need to do that, or the water department.

I don't know that the city council ever discussed outsourcing Lincoln Library; perhaps they never heard of Library Systems & Services. Any such discussion would have to address one very important question. Does the library belong to the City of Springfield as a corporate body? If it does, decisions about how to run it should be made with the good of the town in mind, by providing its citizens what local commercial and private resources cannot. If we agree that the library belongs to the taxpayers as individuals, then it has an obligation to "serve" – meaning pander to – individual taste. Public libraries thus remain useful. The question is how much longer they will be useful as libraries.

Contact James Krohe Jr. at peptobiz@mindspring.com.