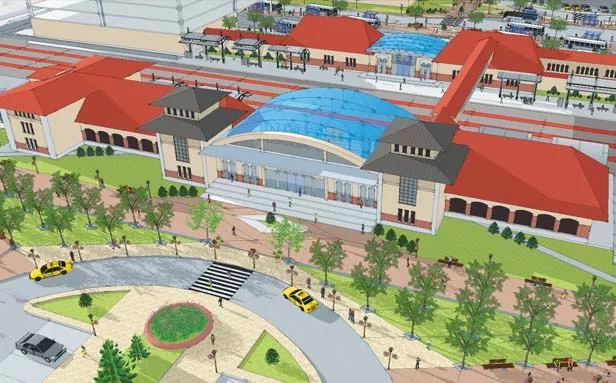 We've all seen it dozens of times in movies. A railroad train is barreling down the tracks. There might be enough time – just – to bring the lumbering machine to a halt before it crashes, but that's the only way to avoid disaster, because it's a train, and trains can't change direction once they start rolling on a particular track.

Those scenes came back to me often over the past couple of years as I listened to the debate about where trains ought to be routed through the capital city. City and county leaders stood arm in arm to try to derail Union Pacific's plan to run both Amtrak and UP freight trains through downtown on UP's Third Street tracks in favor of shunting both to Norfolk Southern's 10th Street tracks. They had dismissed out of hand a much better idea, which is to keep Amtrak on Third Street and divert the freights to 10th, so while the feds entertained the idea, the absence of local support is likely to derail a two-corridor alternative.

Why bother to sort through the rubble? Because, as always after a public disaster, we need to find out why it happened so it won't happen again. The rail project discussions had the same characteristic flaws that have plagued public policy-making in Springfield since the 1930s.

To local officials, the Springfield area is not only their world but the world. Developments in Joliet or Chicago might as well be taking place in Kyrgyzstan for all they know. Thus the general surprise when they were reminded that the Third Street tracks are connected at each end to an expanding continental freight handling system, one part of which links the city to a sprawling new freight hub in Joliet whose first phase opened back in 2008.

UP's tracks through Springfield run at grade, which means grade crossings, which means slowdowns, which mean less profitable freight schedules. UP's solution – lots of overpasses – threatened to turn downtown Springfield into Illinois' first walled city since the collapse of Cahokia. Local politicians' solution was to get trains off Third Street. And, like most solutions to political problems, it is the simplest rather than the best.

The city, state and county had defined the problem as too many trains on Third, when the problem is actually too many freight trains on Third. The overpasses along Third that would have disfigured downtown are required by long freights, not Amtrak's shorter trains. I lived for eight years in Highland Park, two blocks from Metra's busy commuter line that serves the North Shore. Every weekday 56 trains (operated by UP, as it happens) run to and fro on those tracks through two downtown grade crossings, one of which is the town's busy main drag. The trains are only a minor inconvenience because Metra trains are short and because they zip along at a goodish speed.

We also saw the usual shopping projects by price rather than value; a two-corridor option, while costing more, would deliver more by putting rail passengers where most of them want to go, which is near the Statehouse and Lincoln museum. Nonetheless, that option was judged more than the capital city of a state whose economy outranks Switzerland's can afford.

And there was of course the usual pandering to political constituencies. A freight-only option on 10th, lamented the county board chairman, would mean that "the east side of our community would get nothing but more freight traffic." If passenger trains also run on 10th, they get nothing but more freight and passenger traffic. The promise that the proposed transit center on 10th will do for development there what a convention center and the Lincoln home park have not done is a hope based on a promise that relies on a dream.

That was just politicians trying to sell the project. Of more significance to the city as a whole is the way the project was defined. The engineering firm hired to advise IDOT, the City of Springfield and Sangamon County was charged to study at least two alternatives – adding a second track on Third Street and moving the UP trains to an expanded 10th Street corridor. The engineers were instructed to examine only vehicle delay reductions, safety, noise and environmental impacts – sufficient to meet federal requirements, but woefully insufficient to assess trains' impacts on the city's transit, tourism and redevelopment hopes.

Any Springfieldian old enough to buy a beer for an alderman knows that specs written like that suggest that the study was intended to justify the 10th Street option, as indeed it did. Four of the 11 options being considered by the feds called for use of both Third and 10th, but the consultants recommended eliminating the two-track options even though that firm's spokesmen at the time admitted that the rejection was based on what he called "some very preliminary work." The Springfield Rail Improvements Project thus risks improving neither passenger rail or freight movement or Springfield.

Contact James Krohe Jr. at KroJnr@gmail.com.