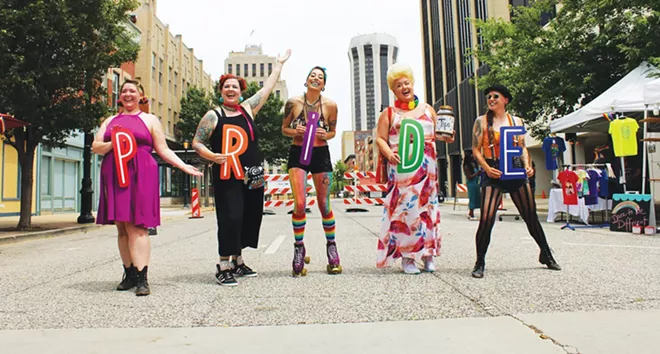 This July 4, a scene in downtown Springfield may as well have been out of New Orleans. As Frank Parker and his band played jazz for an outdoor Mardi Gras-themed party for a crowd of a few dozen people, a woman in a top hat, rainbow-colored sequined leotard and combat boots danced with fans made of fire. Earlier in the evening, another woman in a gold and black flapper dress had been eating fire and breathing the flames like a dragon.
Parker, a celebrated trumpeter in Springfield, grew up in New Orleans. He's traveled the country playing with the likes of Fats Domino. He said the scene reminded him of home. "I played on Bourbon Street for a long time." The dancers "reminded me of that," he said. It was unlike anything he had ever before seen in Springfield though. The dancers were invited to perform by Buzz Bomb Brewing Company, which hosted the event.
So who are these curious creatures roaming outdoor events with fire and roller skates and sequined costumes? They belong to 217 Burlesque, which describes itself as a burlesque and curiosities troupe: "Sprung right out of Springfield to showcase, celebrate and set the stage for all bold, vibrant, radical and body-positive burlesque and variety acts."
Emily Handley, a Springfield native and massage therapist in her early 30s, organized the group, which had slated its first official show for April. The 65 tickets sold out within a day, but the show was postponed due to the pandemic. Among the local acts, there were others from St. Louis also slated to perform. Handley first got the idea while attending a bachelorette party at The Boom Boom Room, a burlesque venue in St. Louis. "The whole time I was watching the show, I just felt like the girls were my friends. Like, we can totally do this."
Handley took the sense of freedom, fun and talent she had witnessed and asked if her friends in the punk and indie art scene in Springfield were up for it. They were. One member dances on roller skates, another has routines with veils and flowing fabrics and another has comedy routines and will emcee. For a Halloween party Handley hosted at Buzz Bomb last year, before the troupe was official, out-of-town performers came with sideshow acts such as contortion and juggling.
It was the first inkling of what's to come once the troupe can begin working at indoor venues, she said. "There needs to be something (in Springfield) that's darker and provocative and arty and queer," said Handley, who said the group is more DIY (do it yourself) punk than showgirl glam. The costumes are mostly handmade, the makeup is wild and the group's ambiance has a healthy dose of anarchy.
While the troupe has yet to perform ticketed shows with routines, they've quickly become Springfield's new street performers, as limited gatherings are now allowed outdoors. Severyn Beekman dances with fire fans: metal structures she can light aflame as she dances. She too is a fan of New Orleans. "There's that street entertainment that's happening pretty much everywhere you go. It's just in your face. I totally love the aesthetic."


Beekman, who's also a visual artist, said switching the troupe's focus to street performances for now has been a good fit. And with a few appearances under the troupe's belt, visibility and interest is growing. "People have asked us about classes," Beekman said with a laugh. Given their newness, she said she's not sure she's quite ready to teach. But Beekman did first purchase her fire fans four years ago, so she's no novice either. And the troupe is open to adding more entertainers to its cohort, which is currently at around 10 members.
"The Midwest is such an impressive place when it comes to the burlesque scene," said Handley, citing not only Chicago and St. Louis but Peoria and other smaller cities as well. While many might think of it as scantily clad ladies with feathers and rhinestones, each scene is different. Handley describes the Springfield aesthetic as gritty, body positive and inclusive. There is no mold that a performer must fill, just a desire to share art that makes people smile, and makes them think.
While the outdoor performances, including one at a LGBTQ pride-themed brunch in Springfield last month, have been relatively tame, future ticketed performances will be for adults only. For now, the members continue to hone their craft and are open to performing at more outdoor events. "We just really want to hold a safe space for people to truly showcase themselves and be vibrant," said Handley.
To learn more about 217 Burlesque and stay up to date with performances, visit: facebook.com/217burlesque
Contact Rachel Otwell at rotwell@illinoistimes.com.