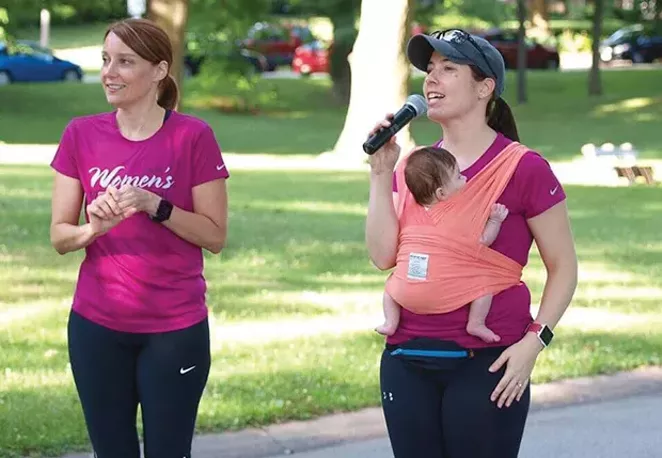 Whether you are an avid runner, a walker or have never thought about participating, this is a great year for women to sign up for the race. Everyone who registers gets a race shirt and swag bag with goodies and is entered to win door prizes. Previous race directors are invited to attend and be recognized, and there will be a table of memorabilia from past races.

In addition to the two-mile chip-timed race, there will be a kids fun run for ages 2-10, from 25 to 150 yards, depending on age. It is limited to the first 100 registrants, and all kids are guaranteed a shirt and a prize.
​Race directors Heather Glessner and Teri Taylor describe themselves as in their "seasoned 30s." They have been running together since December 2012 when they met through mutual running friends. They became better acquainted through the Frost Toes running group, trained together for the 2013 Chicago Marathon and ran every bit of the 26.2 miles together. Since then, they have been best friends and running partners and have run close to 20 half marathons together and two full marathons.

Glessner is a genetic counselor with SIU Maternal Fetal Medicine and discusses genetics as it relates to high-risk pregnancies and preconception risk. Taylor is a director with Sikich LLP.

They both served on the board of the SRRC and decided chairing the WDF would be a fun, new running adventure to take on together. "It's a great way to give back to the running community," Taylor says. "It's an event rich with history. What began as a run to help promote women's inclusion in the sport of running, something that is now well established, has evolved into an event to celebrate all women being active."
Register in advance online, at packet pickup or the day of the event. For more information, go to https://www.srrc.net/wdf --Karen Witter