WED, SEPT 16

Taste of the Festival
7-9pm
FREE Open to the public
Capital City Bar and Grill
3149 S. Dirksen Pkwy

For those not familiar with film fests, this evening event will include a preview of 5-6 of the festival's shortest entries, movie trivia with IT's movie critic Chuck Koplinksi.

FRI, SEPT 18

Pre-festival Party w/ filmmakers
6pm - Midnight
(Full Weekend Passholders Only)

Skatin' 66
Tyrone Dixon, Hollywood, CA
Musician Robbie Love skates Route 66 to promote his music and raise money for charity. 65 m.

Golden Blade III: Return of the Monkey's Uncle
TJ Wiedow, Asheville, NC
Kung Fu spoof with intentional bad dubs and misspelled subtitles. 91 m.

The Crimson Mask
Elias Plagianos, Brooklyn, NY
Businessman and has-been wrestler struggle to break free of overwhelming debt by any means. 85 m.

SATURDAY, SEPTEMBER 19

Session #1 10-11:50am
Audience Favorite Debut Competition

A Short Film about Love
HsinYin Sung, Taiwan
Street cleaner tries to win a beautiful woman with an expensive gift. 7m.

Sinnerman
Travis Pittman, Kelly Daniela Norris, New York, NY
A student takes drastic measures to protect his future when a former girlfriend becomes pregnant. 19 m.

Perspective
Laura Meoli, Bronx, NY
A magic camera gives a claymation artist a new perspective on life. 13 m.

In the Dark
Alex Fazeli, Pasadena, CA
A double agent agrees to exchange information for safe passage when Khomeini takes over Iran. 17 m.

Letter Home
Ken Pak, Ontario, Canada
One person understood what William went through in the war; now it's his turn to understand. 9 m.

Business as Usual
Dominique Schilling, Los Angeles, CA
A young businesswoman suffers a miscarriage three hours before a major presentation. 17 m.

And Seven Hours Later
Lynelle White, O'Fallon, IL
A geek and a preppy girl find something in common when trapped in an elevator. 7 m.

The Last Legend
Brant Hadfield, Kirkwood, MO
A young woman journeys to a remote farm to solve a riddle learned from her grandmother. 12 m.
Session #2 11:50am-1pm
Short Documentaries – Free Show


Safe Haven: The Warsaw Zoo
Gary Lester, Winter Park, FL
Story of how the zoo became a safe haven for 300 Jews at the beginning of WWII. 29 m.
Heart Sutra
Satoshi Hirayama, Japan
An interpretation of Buddhist text through scenes, monologues and dance. 24 m.
Session #3 1pm
Fest Sampler & Filmmaker Panel
Skylight - Animation
David Baas, Toronto, Canada
Penguins deal with strange light from above. 5 m.
The Bro Pact - Foreign Language
David Xarach, Victor Peceno, Spain
Three young men take a friendship pact one rule too far. 6 m. (Written by Jan Militello, Rochester, IL)
I Am a Man: From Memphis, A Lesson in Life
Jonathan Epstein, Memphis, TN
Documentary of a sanitation worker who marched with Martin Luthur King. 27 m.
Cantata in C Major – Best Experimental
Ronnie Cramer, Denver, CO
Montage of horror movie clips and soundtracks. 8 m.
Hush - Student Film - Drama
Jauvonnie Brown, Chicago Vocational H. S.
Students keep secrets about family, drugs and personal problems. 10 m.
Repaired? - Animation
Seung-Hoo Ihm, San Francisco, CA
Aliens try to repair their ship. 3 m.
Scarecrow– History Award Winner
Patrick Knipe, Burbank, CA
Deserting Civil War soldier redeems himself by saving a runaway slave boy. 17 m.
The Birthday Party - Drama
Veronique N. Doumbe, New York, NY
A 10-year-old's birthday party ends in tragedy. 7 m.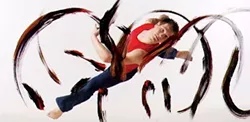 Caught in Paint - Experimental
Rita Blitt, Leawood, KS
Artist's paintings are reproduced by dancers behind a glass partition while she paints. 6 m.
The 2 Sons and Their Crogzookies - Comedy
Dale Ward, Eureka, MO
Twins approach a task in different ways. 3 m.
See You Next Fall - Student Film - Comedy
Allison Martsch, Nino LoGrasso, Springfield H.S.
Falling into a pile of leaves sends boy into an alternate universe where he is being pursued. 3 m.
Appliance Night Out – Animation
Peter J. Casey, Rockford, IL
Washer and dryer have night on the town. 3 m.
Filmmaker Panel
Meet visiting filmmakers and hear about their films.
Session #4 3:15 – 5:15pm
Audience Favorite Comedy Competition
50 States
Caity Birmingham, Chicago, IL
Father and daughter go on road trip. 13m.
Woke Up Ugly
Ryan Parker, Memphis,TN
Man awakes with a different face prompting the girl of his dreams to confess her own affliction. 21m
Stalk Much?
Bill Bayken, Chicago, IL
Man experiences stages of grief after breakup. 10 m.
True Beauty This Night
Peter Besson, Sherman Oaks, CA
Rhett must convince his ideal woman to date him in spite of their unusual meeting. 10 m.
Death in Charge
Devi Snively, Mishawaka, IN
The grim reaper is mistaken for a babysitter and learns a thing or two about life. 15 m.
Sugar
Alex Beh, Chicago, IL
Waiter dreams of romance when diners ask for sugar. 8 m. (Co-produced by Brett Hays, Springfield)
El Turista (Subtitled)
Lori Chodos, Toronto, Canada.
Tourist misses flight to Miami and vacations at home in Lima, Peru. 8 m.
Sprinkles
Josh Hope, Chicago, IL
Daughter is asked to dispose of dead dog. 8 m.
And the World Goes Round
Marie-Juliette Steinsvold, Brooklyn, NY
Fantasy about man who thinks he needs silver coins to win a promotion. 10 m.
"Animated American"
James Baker, Joe Haider, Pasadena, CA
Old-style cartoon characters must find new jobs when computer animation becomes the rage. 15 m.
Session #5 6:30 – 8:30pm
Best Documentary Winner
Vietnam Long Time Coming
Gordon Quinn, Jerry Blumenthal, Peter Gilbert, Chicago, IL
Vietnam vets bike with their former enemies and make peace with their wartime experiences. 120 m.
Session #6 8:45 – 11:30pm
(Mature audiences only)
Adult themes, nudity, language, R-rated
Bathtub of Happiness (Subtitled)
Nadine & Norbert Keil, Munchen, Germany
Two strangers find love in magical bathtub. 27 m.
Mysterious Ways – Best Debut Feature
John Denn, Minneapolis, MN
Mysterious intruder forces prosecutor and his psychologist wife to examine their
feelings. 98 m.
Soap
Dusty Mancinelli, Toronto, Canada
Young mother is desperate when she discovers her lover dead from slipping on a bar of soap. 15 m.
Foet (Director's Cut)
Ian Fischer, New York, NY
Based on F. Paul Wilson story, a pro-life woman falls in love with handbags made of fetal skin. 14 m.
Liminal
Stephen Keep Mills, Topanga, CA
Two women viciously argue about their relationship while in the nude. 14 m.
SUNDAY, SEPTEMBER 20

Session #7 9:30am – noon Audience Favorite Dramas

Hidden Hearts
Caity Birmingham, Chicago, IL
Siblings search for their old home and family. 15 m.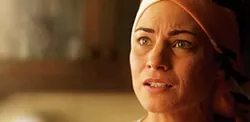 Open Your Eyes
Susan Cohen, Pasadena, CA
A woman diagnosed with breast cancer begins a journey of self-discovery when locked in a bathroom with a stranger during a bridal shower. 14 m.

The Paradigm Shift
Jon Barr, Bryn Mawr, PA
Professor assigns class to plan a presidential assassination and puts grad assistant in the middle. 26 m.

Dixon's Girl
Fernando Rivera, Miami, FL
An abandoned daughter finds her past, dark secrets through the afterlife. 19 m.

The Orchard
Will Simmons, Lincoln, MA
Fugitive stumbles on an apple orchard where things aren't what they seem. 21 m.

Robert Shaw
Bryan Dobrik, Peoria, IL
Man can't escape his past no matter how hard he tries. 10 m.

Runaway
Hermione Merry, Victoria, Australia
Child's fairytale journey reveals horrible reality. 10 m.

The Dying Western
Michael Kortlander, Athens, OH
Movie extra makes his mark by playing dying cowboys, but knows little about the real thing. 25 m.

Session #8 1-3:15pm
Shorts & Comedy
Feature Winner

Burn Down - Animation
Hyun-Woo Kim, New York, NY
Life, death and rebirth all in an ashtray. 5 m.

Live from New York - Documentary
Bridget Matthews, Astoria, NY
Story of Saturday Night Live's most loyal fan. 12 m.

My Name Is Jerry - Best Comedy Feature
Morgan Mead, David Hamilton, Muncie, IN, Zach Baliva, Springfield IL
Middle-aged salesman decides to change his life when he meets a younger woman. 100 m.

Session #9 3:15pm
Foreign Short & Feature Winner

Pelo Ouvido (Through the Ear)
Joaquim Haickel, Rio de Janeiro, Brazil
Young wife tries to preserve her passionate relationship with her handicapped husband. 17 m.

Euforia – Best Foreign Film Winner
Alfonso Corona, Mexico
A burned-out 46-year-old former rock star risks everything to help a beautiful woman. 100 m.

Session #10 5:30 – 8:30pm Winning Shorts & Awards



The Incident at Tower 37 – Best Animation
Chris Perry, Northampton, MA
Watchman is menaced by intruders. 11 m.
The Caretaker – Best Debut Short
Darryl Kinson, Burbank, CA
A young woman must decide to trust her instincts or a stranger when stranded in the desert. 22 m.
Crook – Best Thriller
Daric Gates, Burbank, CA, (Chatham, IL native)
Real estate mogul becomes the target of a secret government agency in a political coverup. 30 m.
William's Christening – Best Drama Short
Joshua Hume, Brooklyn, NY
Wealthy father and sleepwalking mother who misplaces her baby go to extremes to get another. 15 m.
Dream the Life – Best Comedy Short
Rebecca Rocheford Davies, Australia (MN native)
Film star's favor for a pregnant waitress creates a media frenzy. 27 m.
Al's Beef - Best Western
Dennis Hauck, Los Angeles, CA
A mysterious woman comes to western town for revenge. (Stars Jordan Ladd & Dean Stockwell) 35 m.
Gone Fishing – Best of Fest Winner
Chris Jones, London, UK
An old man and a boy come to terms with bereavement through a love of fishing and a tale of a giant fish called Goliath. 13 m.
AWARDS PRESENTATION