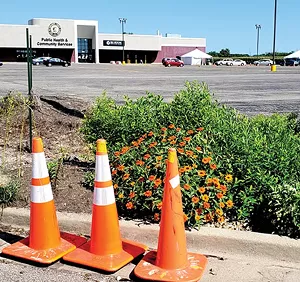 At the beginning of the year, scenes from our current reality might have seemed as though they were out of science fiction. Mask wearing has become the norm, or at least should be, according to medical experts. Grocery stores are urging one family member per cart and have floor markings to promote distance. Lines for COVID-19 testing can stretch dozens of cars deep. News of outbreaks at restaurants, bars and long-term care facilities have become commonplace.
Earlier this month, Sangamon County registered 1,000 reported cases. As of the morning of Aug. 11, according to data compiled by The New York Times, Sangamon County reported 1,274 cases total. Slightly more populous Champaign County had reported 1,686. In Sangamon County, more than 30 infected people have died. Many were residents of The Villas long-term care facility in Sherman. More than 700 people have reportedly recovered, with hundreds of others reportedly in isolation. As of Monday, Aug. 10, less than 10 COVID-infected patients were hospitalized, according to county officials. Over the past weekend, Aug. 8-9, 61 more people in Sangamon County tested positive. On Aug. 11, Sangamon County hit a record for the highest confirmed cases in a single day, 51.
Sangamon County Department of Public Health director Gail O'Neill said contact tracers have found a notable amount of cases can be attributed to social gatherings. "The weather's gotten nice and people are wanting to get out and about. ... Many are reluctant to wear masks when they're out of their home and away from people that they don't usually live with." O'Neill said people should remain cautious of gathering in groups outside their immediate household.
Testing options have been in flux. Testing outside the Sangamon County Department of Public Health building on South Grand Avenue is operating again under SIU School of Medicine. The hours are 9 to 11 a.m. and 4 to 7 p.m. Monday, Tuesday and Thursday. The Illinois Department of Public Health also offers testing on the state fairgrounds on Wednesdays from 9 a.m. to 5 p.m. At both sites, people of any age can be tested for free regardless of symptoms. Memorial's Respiratory Screening Clinic on South Sixth Street and a testing site at a Walgreens on North Ninth Street are other options. Both require appointments. The wait time for results vary. O'Neill said people who learn they were around an infected person should wait three to four days before getting tested, as that's how long it can take the infection to become detectable.
Gov. JB Pritzker's administration invested $5 million in a mask-wearing campaign, meant to promote masks and proper usage (cover your mouth and nose, for instance.) That was announced earlier this month, around the same time Sangamon County was one of 11 counties on a public health warning list, a list from which it was later removed.
During an Aug. 7 press conference, Pritzker announced related emergency rules filed by the Illinois Department of Public Health and said, "This is a make or break moment for the state of Illinois, for making sure that people are doing everything they can to mitigate, to reduce the spread. And so this is a moment for us to enforce the masking requirements across the state." The rules focus on a system of warnings and fines for schools, child care providers and businesses that fail to enforce mask-wearing.
During the conference, Pritzker gave a nod to the capital city, saying Springfield is among the places that have put in their own "enforcement mechanisms." At the end of July, Mayor Jim Langfelder issued a sixth emergency order which declares patrons of bars and restaurants must have assigned seats that they do not leave except for limited scenarios. Establishments must keep occupancy to only the seats available. The city announced it would be conducting compliance checks and fining establishments accordingly. "It is unacceptable that a business might have to shut its doors and residents are out of work because some individuals feel inconvenienced by wearing a mask," Langfelder had said in a release.
Contact Rachel Otwell at rotwell@illinoistimes.com.